Carmel-by-the-Sea Vacation Lodging
CARMEL BOUTIQUE INNS is a collection of Carmel-by-the-Sea's most remarkable privately owned and operated small boutique hotels, luxury bed and breakfasts, and unique cottages. Each Carmel California property holds to the highest standard of excellence in accommodations, guest services, and cuisine.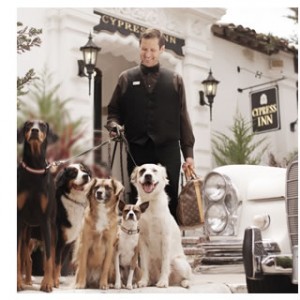 With the exception of Cypress Inn, which is co-owned by actress Doris Day, each of the Carmel Boutique Inn is owned by either business man Denny LeVett or his daughters, Amanda and Kate.
Carmel Boutique Inns includes Cypress Inn and Terry's Lounge + Restaurant, Vagabonds House Inn, Carmel Lamp Lighter Inn, Forest Lodge, and Monte Verde Inn.
Dog-Friendly Carmel Hotels
Each of the Carmel Boutique Inns, is a wonderful place to stay as you travel with your pet to Carmel-by-the-Sea. Carmel is a pet friendly town where dogs can run free on Carmel Beach, and walk on leash throughout the town. Doggie pick up bags and a spot to wash off your pet after a romp at the beach are offered at each of the inns.
Eco-Conscious Carmel Accommodations
There is a unified effort among the Carmel Boutique Inns to make every effort to preserve the beauty of Carmel and its natural resources by becoming more and more eco-conscious. From the amount of water, to the cleaning products and even to the materials used in our recent renovations, we are doing what we can to preserve the environment.
Carmel's Finest Bed & Breakfasts
Choosing a best place to stay when coming to Carmel is not always easy. Let us assure you to that selecting one of our Carmel Boutique Inns will result in a lifetime of cherished memories.
"This hotel is 100 percent well behaved dog friendly, including the lounge, bar and dining room. It's heaven for those of us who travel with our dogs! We enjoyed an evening in the lounge listening to an acoustic guitar player and Christmas tunes, drinking wine, chatting with guests next to the glow of the fireplace and Christmas tree. It will be a memory of a great evening with our dogs and new friends."
– The Cypress Inn Review
"Vagabond's House is heavenly and the perfect landing spot for a short weekend trip or a long retreat. The staff is helpful, welcoming, and deeply knowledgeable. The rooms have great character and all the right fixings (the bathtubs! the bed!) — I haven't felt so relaxed in years. And the location can't be beat. Afternoon wine and morning breakfasts in bed added to the charm, along with the outdoor fireplace to gather. My long weekend there was an absolute dream, and I can't wait to go back."
– Vagabonds House Inn Review
"From the moment we pulled into the parking lot, the staff were friendly and helpful. Kate and Casey were personable and available. All of the little touches in our suite made it immediately feel welcoming and warm. The continental breakfast, delivered to our room, was a wonderful start for our day. It was close to shopping and restaurants. The beach was very accessible (a short walk down hill to the boardwalk). A charming Inn with privacy and amenities! We're looking forward to booking again next year!"
– Monte Verde Inn Review
"We loved our two nights here. The location is amazing right on the main road in Carmel and just a few minutes walk from the beach too. There is free cheese and wine served 5-6 pm each day outside on the heated patio. Really nice. The breakfast was also served there. It was pretty simple various breads, jam and peanut butter … cereal and yogurts. The staff were all very friendly. Would definitely stay again and have already recommended to others!"
– Lamp Lighter Inn Review
"We had a FANTASTIC time here in the Garrett Loft while staying in Carmel-by-the-Sea. The room was perfect and cozy with a gas fireplace, breakfast was delivered to our door in the morning with a smile, a short walk to the beach…the whole dang town is as charming as you could hope (like staying in a fairytale village)! Will very happily come back to Forest Lodge (Peggy and staff were great)."
– Forest Lodge Review