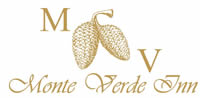 Tucked into the heart of the famous artisan village of Carmel-by-the-Sea is a classic European-style Carmel inn: Monte Verde Inn.
Monte Verde Inn is a recently renovated 94-year-old Mediterranean-style Carmel bed and breakfast inn with warm, inviting white-washed adobe walls and arches that exude a romantic mood.
Our Carmel hotel rooms are individually appointed with distinctive furnishings creating an enchanting ambiance of romance, style and comfort.
All the comfortable, individually decorated rooms have a private bath, premium bedding, fluffy pillows, expanded cable television, flat screen TVs, telephone, free WiFi, hairdryer, iron and ironing board, luxurious bath amenities, in-room gourmet coffee and teas, along with a complimentary decanter of our signature sherry for your sipping pleasure! Some rooms include ocean views, full kitchens and fireplaces.
Upon arrival at our Carmel hotel you are greeted with a warm smile, friendly service, and, on Friday and Saturday evenings, a wine/cheese reception to begin your Carmel experience. In the morning, we deliver a delicious Continental breakfast basket to your door.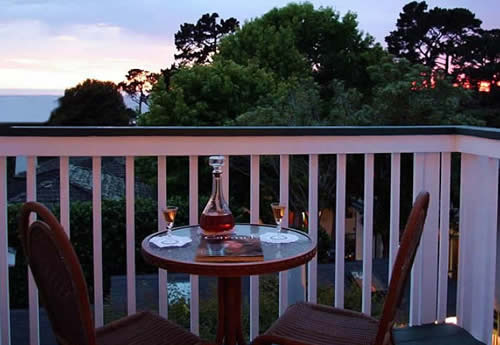 The location of our Carmel hotel is perfect for easy access to beautiful Carmel Beach, a wide variety of fine restaurants, unique shops and well-known art galleries. The majestic Big Sur coast and Point Lobos Reserve are just a short drive south; world-renowned Pebble Beach is just to the north. And, the magnificent and world-famous Monterey Bay Aquarium is just minutes away!
And since Carmel is one of the most dog-friendly cities in the world, your well-behaved dog will be greeted as a welcome guest. Monte Verde Inn is a Carmel dog-friendly hotel. But be sure to check with your concierge for dog-specific rules.
We welcome your visit to Carmel-by-the-Sea and Monte Verde Inn — an extraordinary travel experience you will always remember . . . and will aspire to relive often!
History of the Monte Verde Inn
The records from the 1900s are a bit inconclusive, but the Monte Verde Inn apparently started as an apartment complex in downtown Carmel. Mary L. Hamlin owned the property in 1915, and in 1921 she built two buildings on the corner of Ocean Avenue and Monte Verde Street that were called the El Monte Verde Apartments. The property passed to Ethel P. Young in 1925 and the apartments were managed by her daughter, Virginia Stanton, whose husband, Robert, was a renowned Monterey Peninsula architect and builder. He built the Normandy Inn on the property in 1936, perhaps moving the apartment buildings around the corner to the hotel's current location just southwest of Ocean Avenue on Monte Verde. The initial mention of the Monte Verde Inn came in 1958 in the city directory. Robert Stanton designed a number of buildings in Monterey County, most notably the Monterey County Court House and the King City Joint Union High School Auditorium, both listed on the National Register of Historic Places. He also worked closely with renowned sculptor and artist Joseph "Jo" Mora on several of his projects. Richard and Virginia Stanton were both respected philanthropists later in their lives, including establishing the Robert and Virginia Stanton Endowment Fund for The Community Foundation for Monterey County. Virginia Stanton was the party and entertainment editor of House Beautiful magazine and was one of the founders and a major donor for the Stanton Center and Maritime Museum, now home to the Museum of Monterey.